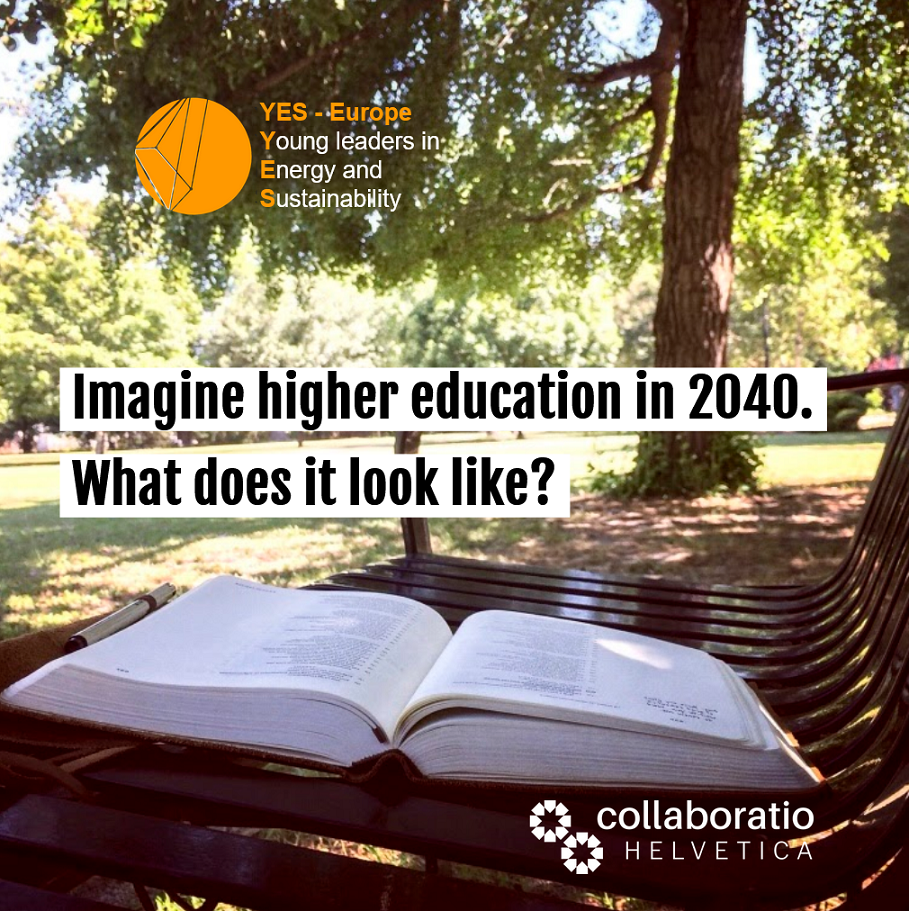 Adapting higher education to sustainability imperatives
Education plays a fundamental role in shaping and implementing sustainability, through
the development of individuals and meaningful structures. Imagine a school where you
can reimagine how the world is built. A school that empowers you to discover and create
a sustainable future. A school that provides students with concepts, tools and knowledge
to define themselves in the sustainability realm. During the two-hour workshop we'll give
space to your dreams for the education system.
Collaboratio helvetica believes in Switzerland's unique potential to leverage participatory
approaches and collaboration to contribute to a change towards more ecological
responsibility, humanity and the common good. The organisation catalyses the societal
transformation of Switzerland by cultivating a cross-sectoral innovation ecosystem,
building capacity for systemic change and convening stakeholders around the complex
challenges addressed in the Sustainable Development Goals (SDGs). One of their
offerings is the Catalyst Lab, an incubation program for people working on systemic
change in various topics. The Catalyst Lab gives tools, support and visibility to those
catalysts.
During this workshop, you'll meet one Collaboratio Helvetica catalyst, Erik Turner, working
on creating student-organized dialogue spaces within the university landscape of
Switzerland and beyond. The intention behind this is to co-create fruitful collaborative
environments that foster and empower academic institutions to be sustainability pioneers.
Members of YES-Europe international management team will join him to invite you to an
exchange of perspectives around sustainability, its application within the higher
educational system as well as your wishes to push it further.
ORGANIZERS
YES-Europe (Young Leaders in Energy and Sustainability) is a community created to
empower students and young professionals across Europe with the mission of catalyzing
the energy transition by creating an environment where youth are given a space to
develop ideas, take on responsibility, build their local community and act for change. With
the support of Collaboratio Helvetica, we believe in Switzerland's unique potential to
shape the road toward sustainability, with a systemic integration of its fundamental pillars:
social, economic and environmental benefits.
#changehighereducation #systemchange
Cover image: Collaboratio Helvetica

Details will follow
Erik Turner