In 2023, there will again be Hochschultage für Nachhaltigkeit (University Days for Sustainability) in Freiburg, from June 12 to June 16, 2023.
Hochschultage für Nachhaltigkeit 2021
In the super election year 2021 we ask the question: "How can we shape our society in a sustainable way? Would you like to learn more about digital transformation, discuss climate activism in Corona times, or experience science in a different way at the Science Slam? Then come and visit us!
The Hochschultage für Nachhaltigkeit (University Days for Sustainability) are the Freiburg supplement to the Sustainability Weeks @ Universities BaWü. They will take place this year from June 7-19 and cover a wide range of sustainability topics with diverse events such as workshops, lectures, (panel) discussions and creative events.
Under the motto "sustainable. political. design." we would like to take a look at the systemic level of action and ask: 'What should an interplay between science and politics look like?', 'What are important leverage points for a socio-ecological transformation?', or 'What is the connection between the Corona and climate crises and their respective implications?'
Hochschultage für Nachhaltigkeit are organized as a cooperative project by a volunteer team from the student groups Weitblick, Campusgrün, Health for future, Foundersclub and Nachhaltigkeitsbüro (Sustainability office).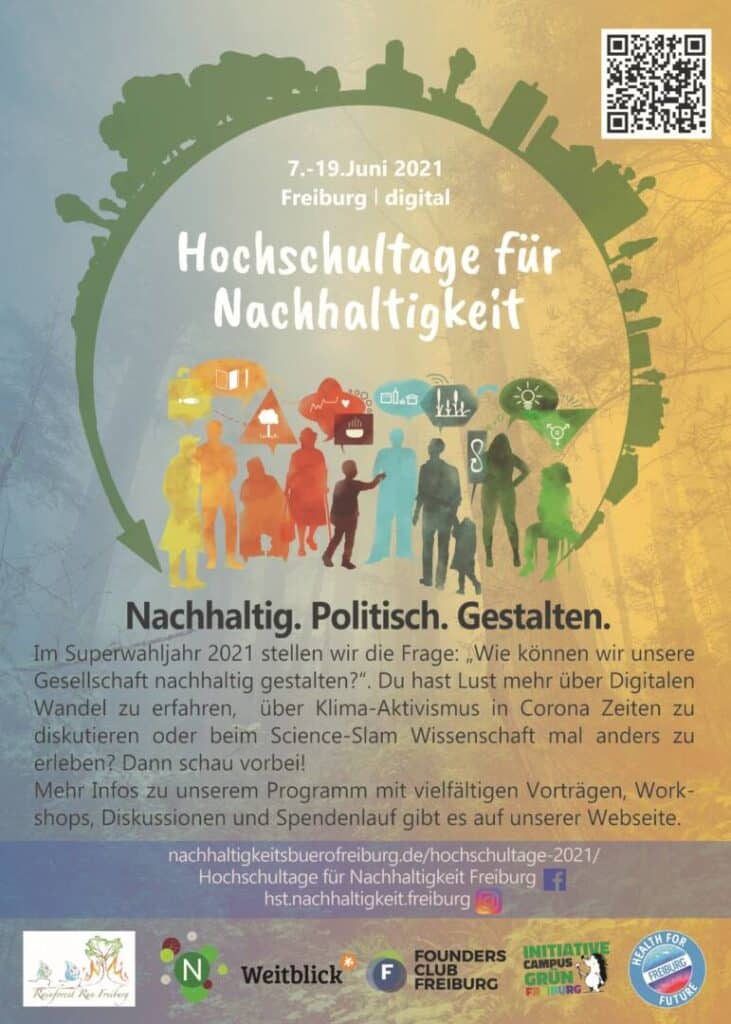 You can find more info on social media and reach us by mail. Also feel free to visit our website.
Organized by initiatives from Freiburg
During Sustainability Weeks @ Universities BaWü
This year no events will be held in English.
Here is a list of events in German in Freiburg.
Program June 7 – 19
From June 7 to 19, you can expect a program with more than 20 events. For up-to-date info, please refer to our Facebook, Instagram and web pages (see above). Here you can already find an overview. Events that are held in English are: "Eucor & Sustainability" (multilingual: D, E, F), "Climate Action & Covid-19", and "Social Tipping Points for Climate Action".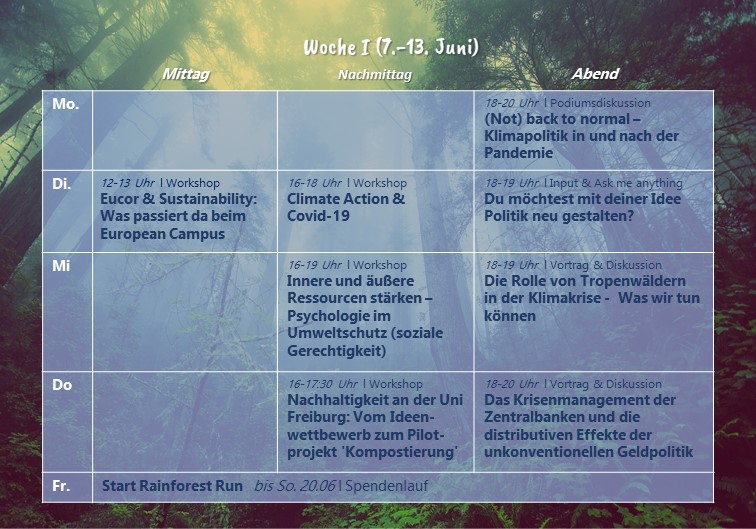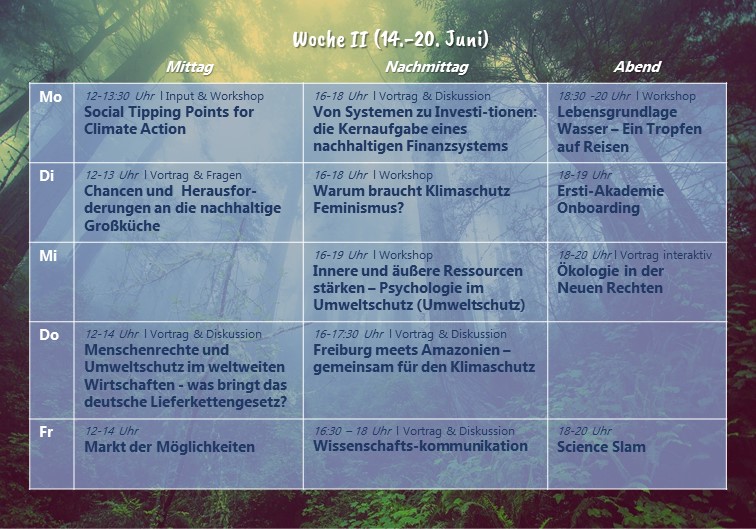 You can find the complete program of the NWB 2021 here.
---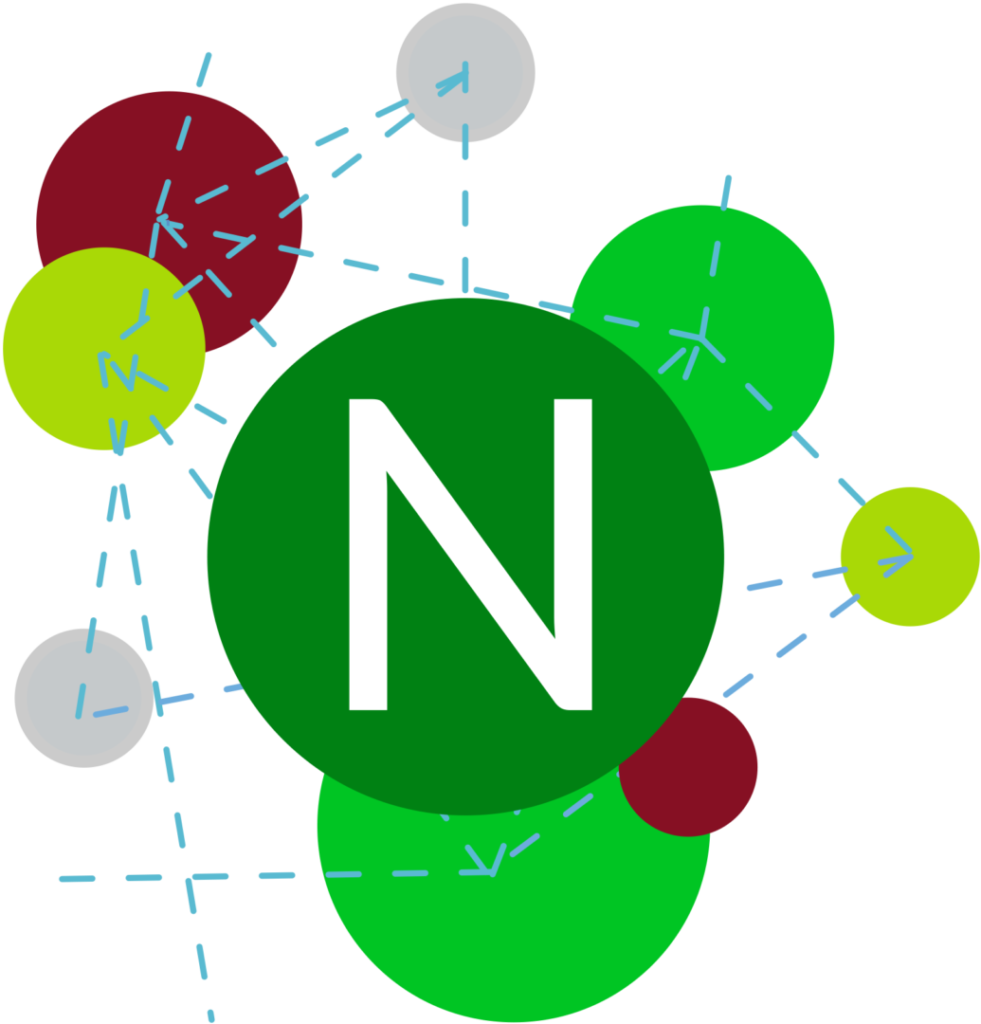 Nachhaltigkeitsbüro Uni Freiburg

The Sustainability Office at the University of Freiburg is a university politcal initiative that aims to promote and structurally anchor sustainability at the University of Freiburg. We are committed to ensuring that the student perspective has a firm place in the university sustainability process by regularly organizing lecture series, networking student initiatives and participating in the creation and design of a Studium Oecologicum.

Weitblick Freiburg

Weitblick Freiburg e.V. is a student initiative that campaigns locally and internationally for fairer access to education. With its projects, the Sustainability Working Group wants to draw attention to the topics of environmental protection, climate change and sustainability. In addition to upcycling actions, clothing swap parties, a seasonal calendar and a sustainable Advent calendar, we organize lectures and workshops to bring the topic of sustainability closer to ourselves and others.

Foundersclub Freiburg

Foundersclub Freiburg is an interdisciplinary, local student initiative for entrepreneurship.
With student entrepreneurial spirit and creativity, coupled with technology and interdisciplinary collaboration, we support young founders in creating great value for the community. We stand out by focusing on green and social entrepreneurship and driving sustainable development through innovation.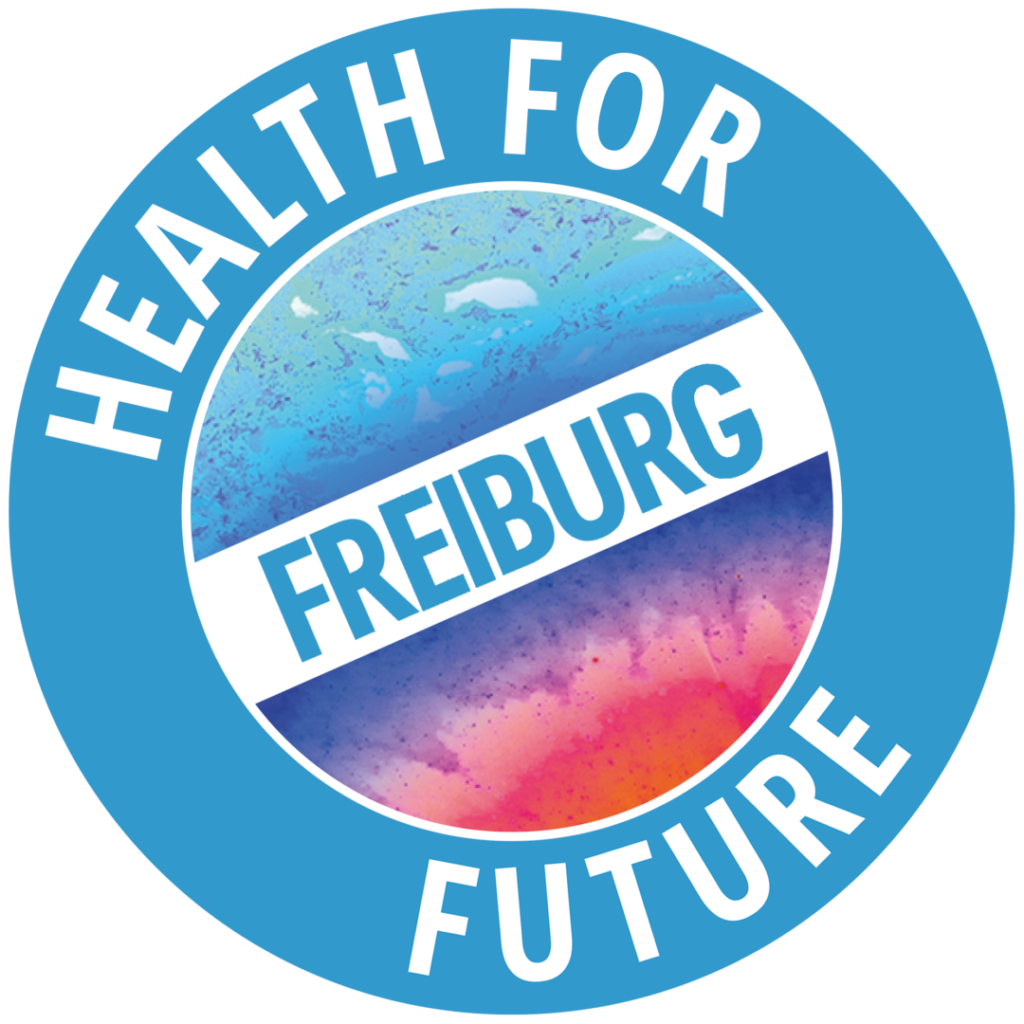 Health for Future

The climate crisis is the greatest threat to global health in the 21st century. Health for Future is a Germany-wide network in which members of the health sector stand up for the protection of the ecosystem and an intact climate. Healthy people can only live on a healthy planet. To achieve this, not only symptoms but also causes of the climate crisis need to be addressed. In Freiburg, we are active in the areas of nutrition, mobility, public relations, teaching and research.
campusgrün Freiburg

campusgrün is the green university group at the University of Freiburg and is committed to an all-round sustainable university. This year, we are represented in university politics with three seats in the StuRa (student council) and one seat in the Senate. In addition, we organize regular lectures, workshops, podcasts, bike tours and fun activities to green the university in the literal and figurative sense.